"I really see this as a conversation, as a collaborative approach," Federal Finance Minister Chrystia Freeland said diplomatically.
Content of the article
Extremely cold winds swept southeast Calgary on Thursday afternoon as federal Finance Minister Chrystia Freeland stopped in the city's industrial zone on a post-budget tour.
Content of the article
She visited the Alberta Carbon Conversion Technology Centre, which showcases various carbon capture and utilization initiatives in the province.
While cold weather dominated Thursday's press conference, some heat has been generated in recent days by the federal government's suggestion that Alberta could provide its own incentives if it wants to see the capture, carbon use and storage (CCUS) moving forward in the province.
In last week's budget, Freeland released details of a new federal investment tax credit for such developments.
It is seen as a crucial step to launch projects that will help the country's oil and gas sector reach net zero by 2050, by capturing carbon dioxide emissions and burying them underground or using them in various industrial processes.
Content of the article
"You can't see the excitement on my face because it's kind of frozen, so let me try to really smile…I really feel like we're at the start of a new chapter for Alberta and Canada," Freeland said.
"The federal government came to the table. We have introduced a powerful tax credit.
Under the federal plan, companies can receive a 50% tax credit for investing in equipment to capture CO2 in such projects, and a 37.5% credit for spending on equipment used for transport and storage on CCUS.
But the budget also made a point of emphasizing that it will discuss "with relevant provinces in the hope that they will further strengthen financial incentives to accelerate industry adoption of CCUS technologies."
Content of the article
Let the squirming begin.
"I really see it as a conversation, as a collaborative approach," Freeland said diplomatically.
"A specific step that, from our perspective, the province could take that would be helpful would be to make provincial support stackable with federal support."
This means that companies considering a big budget investment in CCUS could take advantage of the federal incentive, as well as existing provincial credits, programs or initiatives adopted by Alberta.
Varcoe: Federal carbon capture incentive puts ball back in Alberta's court

Alberta's UCP government 'pleased' with federal budget's carbon capture tax credit

Trudeau proposes tax credit to cover 50% of cost of carbon capture technology
In some ways, this is a tacit acknowledgment that what Ottawa has brought may not be enough to get some developments across the finish line.
Content of the article
This puts Premier Jason Kenney and his government in a tough spot.
The province has been a major cheerleader in seeking federal incentives for CCUS to help the energy sector decarbonize.
Last year, Kenney requested $30 billion in federal assistance from the Liberal government over 10 years — or $3 billion a year — for carbon capture projects in Alberta.
It was, he said, "a no-brainer".
Instead, the price of the federal investment tax credit will slowly increase to $1.5 billion per year, reaching that level in 2027.
That's half of what Alberta was looking for.
Now it's the federal government's turn to put pressure on the province.
Asked about the issue on Wednesday, Kenney noted that the province has directly invested $1.8 billion in carbon capture technology that dates back more than a decade.
Content of the article
And there's potentially more help already on the table.
"We will be making a very significant tax commitment in addition to the federal tax credit by providing an offset to royalties payable by oil sands companies for their capital costs associated with CCUS," Kenney told reporters.
"If they invest billions of dollars in . . . CCUS, that would be deducted from their royalty payments to the Alberta government in future years.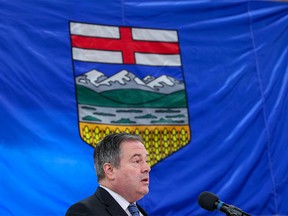 Kenney is apparently referring to the existing royalty system in place for oil sands projects.
To account for large up-front investments, oil sands projects pay lower royalty rates until they reach "payout" – the period when total project revenues exceed total investment and operating costs. exploitation – time at which the rate increases sharply.
Content of the article
Spending large sums of money on CCUS means associated oil sands projects would pay the lower royalty rate for longer, provincial officials say.
Chris Severson-Baker of the Pembina Institute, who backed the federal tax credit, called the lower royalty rate a "huge benefit" for oil sands producers looking to capture carbon.
The province isn't putting all its cards on the table, but doesn't seem particularly eager to bet more money.
"Everyone is positioning themselves. So it's a game of poker," said an oilfield executive.
"The game of poker isn't about Kenney and the Feds not going to pay – they're definitely going to pay. It's a question of dollars everyone is asking.
All of this positioning is driven by the federal commitment that Canada will reduce its emissions by up to 45% by 2030. Carbon capture and storage is a proven technology, but it requires a huge upfront investment.
Content of the article
Both levels of government want to see a number of projects move forward. The industry wants to reduce emissions and produce low-carbon oil in the future. A group of six major oil sands companies have already pledged to reach net zero by 2050.
"We are in intense competition for global investment capital for CCUS projects with countries such as Norway, the Netherlands and the United States all investing generously with industry in CCUS technology," Kendall Dilling, acting director of the Oil Sands Pathway to Net Zero Alliance, said Thursday.
Shell Canada President Susannah Pierce, who attended the finance minister's tour, said the federal measure will help remove uncertainty as the company considers a CCUS project.
"At the end of the day, investors have a choice," Pierce said. "And if Alberta and the federal government come together and work on building a package to drive investment here, that's what we want to see.
Chris Varcoe is a columnist for the Calgary Herald.
---
More news, fewer ads, faster loading times: Get unlimited, lightweight access to the Calgary Herald, Calgary Sun, National Post and 13 other Canadian news sites for just $14/month or $140/year. Subscribe now via Calgary Herald Where Calgary Sun.